The United Nations declares October 11 as the International Day of the Girl Child. The theme for 2020 is "My voice, our equal future." For us at All Girls Allowed, every day is the day of the girl child. The life, value and dignity of girls motivated our founding. It is the work that continues to enliven and propel our organization forward. And the idea of a girl using her voice to help ensure her future brings us joy.
Therefore, we are excited by the philanthropic work that All Girls Allowed does in the world. Our partner Girls Dignity for the Nation recently entered into partnership with Could You? Cup: a non-profit organization dedicated to providing sustainable solutions to assist girls in managing their menstruation. They work to educate people, breaking the stigmas and managing the misperceptions about menstrual health. Could You? Cup will provide 100 menstrual cups to girls at the school and in community. In the United States, we take such education and support for granted, but in emerging countries, a girl's menstrual cycle can be a traumatic and isolating experience without the products, education, and support needed to understand this healthy and natural part of life. We celebrate this new partnership that is bringing dignity to girls.
---
Our partner, Teach Rwanda, continues their work of enriching the lives of children by establishing world-class early childhood teacher education in Rwanda. When COVID-19 closed schools in early March, the Teach Rwanda team went into action to set up emergency food distributions at the Bright School monthly. Teachers immediately created WhatsApp groups with families and made weekly phone calls to check on their welfare. To keep children engaged, teachers prepared "Learning through Play" activities and shared them with families via WhatsApp. Teachers also continued to strengthen their skills in English fluency and technology through weekly classes. Additionally, Teach Rwanda began planning for a Mobile Library to stop at various places in Muhanga so children could read stories with their teachers and take a book home to continue their literacy development.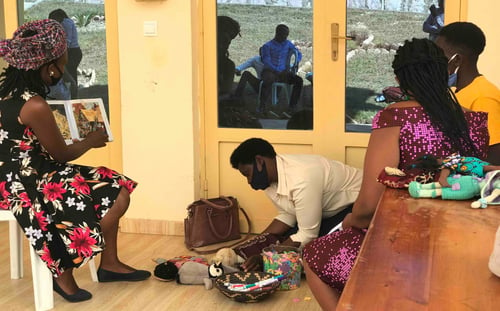 ---
In Uganda, our partner AsOne Ministries is expanding Crater High School in Rwanyahibuka, Western Uganda. The school, the only high school in the area, is approximately 60% female. In addition to providing needed education, Crater High School has a farm and raises pigs to teach students about agriculture and community farming. Founder Andrew DeVaney recently traveled to Uganda. As he prepared to leave Andrew wrote:
"Despite the devastation that coronavirus has brought on our friends around the world, I've been amazed by the leaders we have in Uganda and their resiliency and dedication to fight for the dreams of others. I've also felt incredibly supported by each of you. There were definite fears of "what will happen" early this year -- and despite everything that has taken place, we've been able to thrive as a family and organization which ultimately has enabled us to work to protect those who are most vulnerable."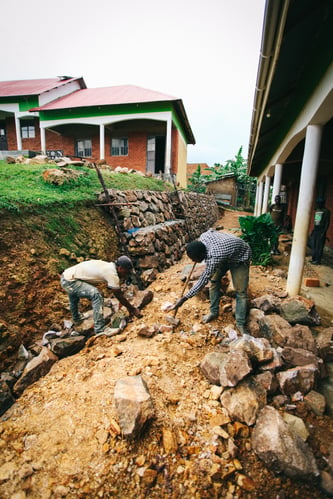 ---
Finally, AGA Uganda works to empower girls, community children, and women through improved access to formal education, skills development, community support programs, and services through the school and women's skill center, to restore the God given potential, talents and abilities in children and women. In addition to preparing for school reopening, AGA Uganda is working to establish a women's skilling initiative in Kasese to combat unemployment by training women and girls with necessary skills for self-sufficiency. This center teaches learners how to make of baskets, bags, shoes, sandals, tablecloths, and do tailoring. Check out a video on how to make an African Basket here. Once trained, these women can create their own employment, where they can earn a living, and provide needed support their families.
Through our partnerships, we are celebrating women and girls, making every day the Day of the Girl. We invite you to help us help our partners by contributing to All Girls Allowed. One hundred percent of your contribution goes toward our philanthropic efforts. Donate now to support our efforts. And if you would care to contribute specifically to one of our partners, please indicate your preferences when you make your contribution. All Girls Allowed restores life, value, and dignity to women and girls because we believe that her voice will help to inspire a better future for all.